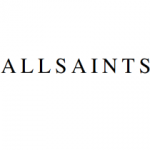 Service Desk Engineer
Here at AllSaints we are proud to be a customer centric global team. Our vision is to make the coolest clothes to evoke emotion for our customers, worldwide.
Everything about our style and creativity is curated in-house, from store design and construction to our brand image, digital presence and clothing design. We are truly an agile business: we work at pace and take responsibility for making a difference.
We are a brand embarking on a very exciting plan and we are seeking new members of the team who want to contribute to this.
THE ROLE
Reporting directly to the IT Service Desk Manager, the role has a particular focus on supporting the AllSaints Head Office in London and remote EPOS global support to the Retail stores. This is a hands-on role that is responsible for excellent customer service to the circa 300 head office users of AllSaints and 160 Retail stores globally.
The role will be based at the London office but may require travel to retail locations and other offices Globally on occasions. The role will work closely with Infrastructure teams as well as other IT Functions. You will be required to support users face-to-face and via telephone using tools such as VNC/RDP etc.
We don't use third parties who will pass on the issues – we do it all ourselves. Excellent knowledge of POS hardware, PC's and MS operating systems is vital for you to survive. You'll be ordering replacement equipment when needed direct from vendors, ensuring that it arrives as planned and then talking store staff through the transition. You'll arrange the return of faulty kit and ensure it is fixed so it can go back into circulation to serve another day.
WHAT WILL I BE DOING?
Working with the IT Service Desk Manager, E-commerce and Development teams to ensure all environments (logistics, corporate and remote access) are operational at all times. This includes ensuring that all areas are updated to approved patching/fixes.
It is expected that fixes and requirements of the end users will be dealt with in accordance of predefined KPIs and SLA.
You will be responsible for monitoring core network and alerting Infrastructure teams to any incidents.
Working with Head of IT Operations, other department heads as well as other staff members/3rd parties in the event of an IT incident occurring. This includes responding to alerts both system and security related and carrying out remedial actions as directed and documented in appropriate incident response procedures and via communication with other Global IT locations.
Ensuring data integrity is maintained
You will be expected to have good crisis management skills and be able to manage IT Incidents when necessary to ensure resolution and that stakeholders are kept notified of details and progress throughout.
You will have an understanding of PCI DSS principles and working practices.