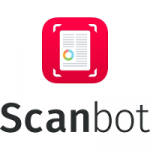 Technical Project Manager
We are Scanbot/doo GmbH! We are a German software development company founded in 2011, with business presences in Bonn and San Francisco. Scanbot enables the integration of scanning and data extraction functionalities into existing mobile applications for the insurance, healthcare, logistics, and banking industry. The Software Development Kit (SDK) utilizes highly sophisticated algorithms and machine learning to integrate scanning functionalities and data extraction into any app. More than 200 businesses worldwide use the Scanbot SDK, including DAX 30 and Fortune 500 companies. Scanbot is backed by three venture capital companies: Freigeist, Target Partners, and Evoco.
We are looking for a Technical Project Manager (f/m/x) who will support our CTO and all development teams here in Bonn to build and release great software, which adds value for our customers on a global scale. In this role, you will significantly contribute to our overall engineering strategy and shape our way of establishing Scanbot as a top technology company. You will be managing the long-term and daily challenges of all our technical development environments.
Tasks
What you will be doing
Work very closely with the CTO and other team leads like Product, Marketing, and Sales.
Build an engaging and rewarding environment for the development team.
Discuss new features and the underlying architecture, test and improve the public APIs of our SDKs (we love to eat our own dog food) in close collaboration with the whole team.
Discuss and define the exact specifications of tasks for all the development teams (currently two mobile teams, cross-platform-, Machine Learning-, and the QA automation team).
Discuss and specify the technical vision and architecture of our products with the development teams.
Manage product releases, including hands-on work like reviewing pull requests when necessary.
Maintain and improve our public technical documentation as well as our example apps on GitHub.
Coordinate the design and implementation of the CI/CD pipelines.
Research new technologies, frameworks, and libraries.
Identify, evaluate, and introduce new tools to increase the productivity of our software development efforts.
Maintain an overview of the bigger strategic picture for our products, like ensuring feature parity between the different platforms, etc.
Support our recruiting processes, e.g. by checking the example code of candidates.
Manage the investigation and fixing of bugs reported by the internal QA team and our customers.
Coordinate our activities in the technical support channels.
Requirements
What we are looking for
4 years or more of experience as a Technical Project Manager for a start-up or a small /medium-sized enterprise is desirable.
Effective leadership skills to motivate team members.
Strong organizational skills and the ability to efficiently structure and prioritize your own work and the work of your team.
Distinctive communication skills being able to communicate with developers at eye level and a high level of commitment.
Deep knowledge of Software Design Patterns, Object-Oriented Programming, Reactive Programming.
Professional experience with at least two of the following programming languages: Kotlin, Swift, JavaScript, C#, Dart, C++.
Professional experience with native Android and native iOS.
Advanced experience with common software development tools like git (GitHub), bug, and issue tracking (JIRA).
Fluency in English (fluency in German, Russian or other languages is not required, but a plus).
Openness towards new technologies and a willingness to quickly learn them.
Good knowledge about software security principles.
Experiences in the following areas would be a plus:
With cross-platform frameworks like Flutter, React Native, Cordova, Capacitor, or Xamarin.
With tools like GCC, make, CMake as well as with libraries like OpenCV, TensorFlow, Tesseract is a plus.
Good understanding of Machine Learning and/or Computer Vision algorithms is a plus.
Experience in setting up and working with cloud services (AWS, GCP) is a plus.
Troubleshooting and technical support (3rd level).
Benefits
What you can expect from us
Responsibility from the day you start.
Work with cutting-edge technologies like Machine Learning and Computer Vision.
An experienced and inspiring team that is willing to ship improvements and features continuously.
Flat hierarchies with the opportunity to influence the company from the beginning.
An experienced and inspiring team that is willing to ship improvements and features continuously.
A multitude of possibilities to improve professionally and personally.
A "get it done" policy and fast decision-making in a motivated, diverse, and open-minded team.
A lived, mutual feedback culture.
Be part of a company with sustained strong growth – we are just getting started.
State of the art tools and equipment (latest MacBooks, mobile devices, displays).
Beautifully renovated office with air conditioning and a huge garden.
Easily accessible by train and car from the whole Cologne/Bonn area.
An agile and flexible way of working.
Sweet and healthy snacks and a large selection of drinks.
"Come as you are Dresscode".
Lived Work-life balance.
And many more benefits.