Flexible start date
You can start learning whenever you like. Access 3 months from purchase.
Take-away materials
Download checklists, templates and guides to use now or later.
Interactive formats
4 modules, 22 video lessons, engaging tests and written assignments.
Personalised feedback
Stay always connected with our consulting team and discuss with others.
67% of our clients find jobs via LinkedIn
LinkedIn is a professional social media platform used by 700 million professionals across the world. It can be confidently called the new 'business card' for digital networking.
Since 2010, EP Advisory's team of consultants have spent more than 21,000 hours exploring how the LinkedIn algorithms can benefit job seekers. Knowing the platform from A to Z, we firmly believe that using it in the right way can advance your career. It will help you connect with others, get interest from recruiters, and find that dream job of yours.
Who is the webinar for:

You want recruiters and hiring managers to come to you with job opportunities

You are a professional, executive, student or graduate building an international career

You are building your professional network and need help learning how to reach out to people without feeling intimidated

You want to know exactly how to edit and optimise your profile and master the platform's search algorithm
Course programme
5 modules / 20 lessons
Module 1. LinkedIn as an essential part of job search abroad
3 video-lessons
Lesson 1. What do we need LinkedIn for? For students and experienced professionals.
Lesson 2. How do recruiters use keywords when searching for candidates on LinkedIn?
Lesson 3. LinkedIn algorithms. How do they actually work? What can affect your profile's ranking?
Test. Check your knowledge of the basic and hidden LinkedIn features.
Module 2. A winning LinkedIn profile
11 video-lessons
Lesson 1. Setting your privacy settings and the URL.
Lesson 2. Adding the right photo and a background image.
Lesson 3. Headline. How to boost your chances to be noticed by 12x?
Downloads. Examples of effective headlines.
Lesson 4. The 'About' and 'Featured' sections. How to explain your background in 3-4 sentences? What to include in the Featured section to boost your profile views?
Downloads. Examples of About sections for both experienced professionals and graduates.
Test. Check your knowledge re section 'About'.
Lesson 5. Experience. Why is it important to list responsibilities as well as your job titles? How to show your career progression within one company?
Lesson 6. Education, Licenses and Volunteer Experience. How to fill this section in?
Lesson 7. Skills and Endorsements. How will they help you in your job search
Test. Check your knowledge re section 'Skills & Endorsements.
Lesson 8. Recommendations. Why do you need them? How can you ask for recommendations and accept them?
Lesson 9. Accomplishments. What to include in this section and why?
Lesson 10. All-star rating. How to improve your chances to be noticed by recruiters by 27x?
Lesson 11. Frequently asked questions and our answers.
Discussion. Ask the EP Advisory team any questions about LinkedIn profile optimisation.
Module 3. Networking and finding the key contacts on LinkedIn
3 video-lessons
Lesson 1. 500+ LinkedIn connections – this is crucial! What the 1st, the 2nd and the 3rd level of connections mean.
Lesson 2. How to find and connect with professionals you don't know yet?
Lesson 3. What is the best way to send your connection request?
Test. What can you use your LinkedIn contacts for?
Assignment. Draft LinkedIn messages to be sent to prospective employers and get feedback from the EP Advisory team.
Module 4. Job search in Europe with your LinkedIn profile
5 video-lessons
Lesson 1. Job seeking preferences. What can you write in Career Interests and how to optimise your settings?
Lesson 2. LinkedIn job search – how to find the job roles you aim for? How to create job alerts?
Lesson 3. Easy Apply – how to send a job application in 15 seconds? Why do you need to optimise your Skills?
Lesson 4. Job descriptions – what is the 85% rule? What do you need to pay attention to in job descriptions and what are keywords?
Downloads. How to tailor your LinkedIn profile and CV for a specific job.
Lesson 5. How to use your Job Tracker to save and monitor jobs on LinkedIn?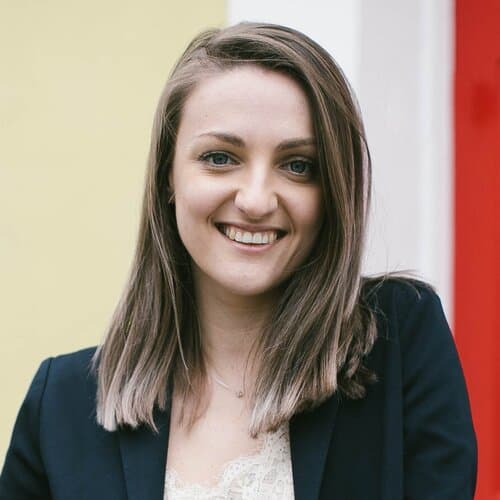 Course instructor
Elizaveta Proselkova
Founder & CEO of EP Advisory
About
A Forbes contributor, creator of an inspiring 'Relocation Stories' YouTube project and a people's advocate Elizaveta always likes to push boundaries of what's possible and help people fulfil their most ambitious goals.
Fun fact
Liza doesn't shy away from difficult questions but if you ask her where she'd like to travel tomorrow, her answer will always be the same: Spain.
Frequently asked questions
When does the course start?
The course materials are available shortly upon your purchase via our website. You will get a welcome email with a registration link to the learning platform and login instructions within 24 hours.
When does the course end?
Our online courses are completely self-paced and are not attached to a specific start date or deadline. You decide when you start and when you finish.
How long do I have access to the course for?
You have 3 months after purchase to complete the course and access all the downloadable materials.
What are the software requirements for this course?
We use Thinkific educational platform to provide you with a smooth learning experience. You will need access to the internet to view the course videos, presentations, download the course files and participate in the discussions. No other technology is required.
Who is the speaker on this course?
This course is lead by Elizaveta Proselkova, the Founder of EP Advisory with over 11 years of recruitment experience in London, UK. She has been actively using LinkedIn since 2010.
What if I don't like the course?
We really want to make sure that our courses are super helpful for every learner. If you don't like the course materials, please send us an email at info@ep-advisory.com within 7 days after purchase and we will refund you the total amount.
Ready to join?
Purchase today and get access to all materials within 24 hours. Start using LinkedIn and get the job you really want, in the country you wish to live in.